WUDIL-TAMBURAWA Water-Supply NIGERIA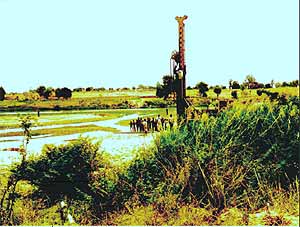 Project Data
Client: Federal Ministry of Water Resoureces and Rural
Development - Kano Nigeria
Design & Construction: Karolak GmbH / Bengar Ltd.
Completion date: 1994
Wudil-Tamburawa water supply schemes are upgrading the total water supply to Kano municipal areas by 50% to 60 000 m³/day. A total of 11 new boreholes have been drilled each with a capacity of 90 m³/h each.
The high lift pumping stations have been equipped with additional pump, switchgear and controls.
New generating sets of 1000 kVA rating have been installed. Balancing tanks of 350 m³ capacity have been installed. Rehabilitation of 15 km of DN 450 A.C. Mains together with additional installation of 5 km DN 300 DCI pipework are connecting the water works to Kano water networks.