About Us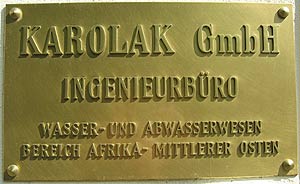 Established as a trading company serving the water industry in Africa since 1973. Planning and engineering services were added to the companies operations in 1986. We have undertaken projects in more than twenty countries throughout Africa, with widely differing climatic, cultural and economic environments.
As each project differs from similar ones previously executed, a higher degree of flexibility is required to identify and implement technical solutions, which are relevant to the project using appropriate technology within agreed upon economic guidelines.
Our diversity of experience and flexebility enables us to match our services closely to the needs of each of our clients, among which are governments agencies, public service authorities and private organizations.